The Jazzmaster
Some trivia and info on the guitar that was designed to please the jazz-players, but got loved by the surfdudes, and later scored with the indie-crowd. 2008: 50 years and still going strong :-)
Vintage Marketing
Fender product catalogue 1958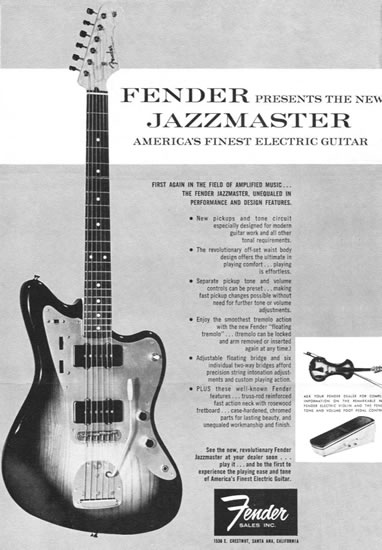 "FIRST AGAIN IN THE FIELD OF AMPLIFIED MUSIC… THE FENDER JAZZMASTER, UNEQUALED IN PERFORMANCE AND DESIGN FEATURES.
New pickups and tone circuit especially designed for modern guitar work and all other tonal requirements.
The revolutionary off-set waist body design offers the ultimate in playing comfort… playing is effordless.
Separate pickup tone and volume controls can be preset… making fast pickup changes possivle without need for further tone or volume adjustments.
Enjoy the smoothest tremolo action with the new Fender "floating tremolo"… (tremolo can be locked and arm removed or inserted again at any time.)
Adjustable floating bridge and six individual two-way bridges afford precision string intonation adjustments and custom playing action.
PLUS these well-known Fender features… truss-rod reinforced fast action neck with rosewood fretboard… case hardened, chromed parts for lasting beauty, and unequaled workmanship and finish.
See the new, revolutionary Fender Jazzmaster at your dealer soon… play it… and be the first to experience the playing ease and tone of America's Finest Electric Guitar."
(thanks to Roelf Backus, Netherlands for the pic)
Jazzmaster praise: quoted from the Fender product catalogue 1960: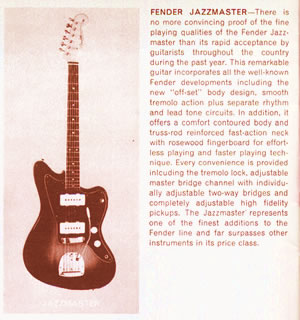 "FENDER JAZZMASTER – There is no more convincing proof of the fine playing qualities of the Fender Jazzmaster than its rapid acceptance by guitarists during the past year. This remarkable guitar incorporates all the well-known Fender developments including the new "off-set" body design, smooth tremolo action plus separate rhythm and lead tone circuits. In addition, it offers a comfort contoured body and truss-rod reinforced fast-action neck with rosewood fingerboard for effortless playing and faster playing technique. Every convenience is provided including the tremolo lock, adjustable master bridge channel with individually adjustable two-way bridges and completly adjustable high fidelity pickups. The Jazzmaster represents one of the finest additions to the Fender line and far surpasses other instruments in its price class."
Jazzmaster pron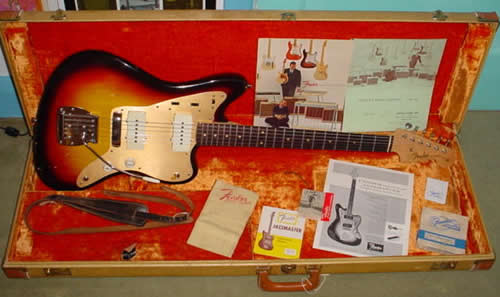 … have a look at the new gallery…